Hope Valley Camp ~ where young people grow in service of others!
I took this opportunity to interview myself regarding a wonderful new program that Hope Valley Camp is offering this year. And I wanted to start with a Bible verse that we think sums up exactly what we are looking to do in our community.
"Your people will rebuild the ancient ruins and restore the foundations of past generations. You will be called the Rebuilder of Broken Walls and the Restorer of Streets Where People Live." – Isaiah 58:12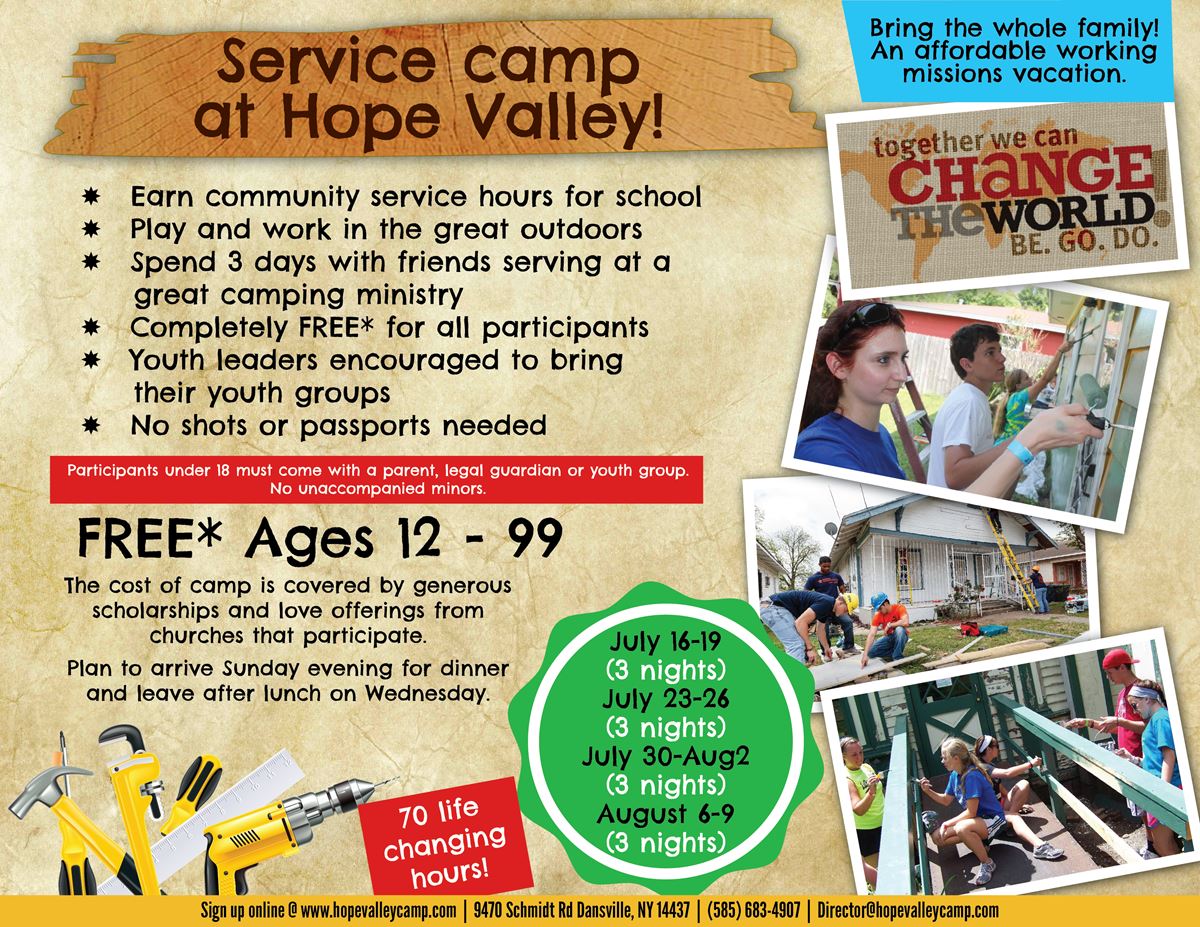 Got Questions About Service Camp? We've Got Answers!
For our readers that have not heard of Hope Valley Camp before, can you give them a brief description?
Hope Valley Camp is a year round retreat center located just 1 hour south of Rochester. We serve churches, organizations and family groups every season with delicious food, comfortable accommodations and beautiful surroundings. Plus we are easy to find and just 2 miles off the interstate with some of the most affordable retreat options around. Whatever your need we are ready, willing and able to help make it happen. Whether it's a Men's weekend in the woods or a week-long church camp. We do it all.
When did this new facility & ministry begin?
Hope Valley Camp was founded in 2009 and moved to it's current location in January of 2012. Since that time we have built a beautiful facility that can sleep up to 100 people year round and we are in the process of growing even bigger in 2017.
What was the driving force behind creating Hope Valley?
We started HVC because we saw a need in our community for an organization that served not just church retreats, but secular groups, families and individuals. And we wanted our facility to be a place that engages the outside community and has a positive impact on the world around us. This didn't already exist in the area that God lead us to, so we followed His leading and created it.
We have heard that you are starting a new program this year, but what other programs do you already offer?
In a typical year we will serve around 30 or so retreat groups. This past year we were blessed by an incredibly generous donation that allowed us to scholarship dozens of low income children to attend our work camp program. Our focus has been on teaching children the gospel along with the benefits of outdoor recreation and serving others in community living. This year we are expanding a program that will help change our local youth as well. We are calling it; "Service Camp".
Why did you decide to expand this popular program?
For Hope Valley offering Service Camp fits perfectly in our purpose and ministry calling. We want to see the local family restored, community rebuilt and hope brought back to the poor and struggling of the Genesee Valley. Without guidance and focus the next generation will not have the tools they need to properly serve their communities and be a blessing to others. We want to use the 3 days we have with these youth and adults to teach them valuable skills and encourage them to see the good in each other and the benefits of working as a team.
This sounds like a really interesting idea. How do you see it working?
The how is the best part of this whole program. During the hours between breakfast and dinner our campers will serve around Hope Valley Camp in different capacities. They will learn practical skills like landscaping, organizational skills and basic home maintenance. And at the end of a fulfilling day of service they will relax at camp with a delicious supper and an evening of fun activities. Campfires, fishing, boating, archery, group games and all the other typical summer camp fun. So your youth will not only come away from this experience with a satisfaction in having served and learned new things, but they will also have the fun experience of spending several nights at summer camp to remember as well.
I am getting really excited about Service Camp. When will this program be operating?
We have scheduled this program to operate for a total of 4 sessions that will run 65-70 hours each over a 3 day/night experience. If we have a large demand from youth groups to attend we will definitely consider adding to the schedule. There is a huge need in this area and the more helpers we have then the more we can achieve.
Do you have anything else to add?
We are excited to offer this new program and we know that it will be a true blessing to families in need and to the participants as well. I can not think of a better service opportunity that is available to teens and is as FREE & time effective. No vaccines shots needed. No passport photos and visa applications. But you do get a chance to have a major impact by serving a ministry that serves others and you don't even have to leave your home state. This is the perfect chance to learn and get started giving back. And if your school district requires community service hours to graduate then you can earn most or all of them here at Hope Valley.
Grab your friends, talk to your youth leader and sign up for this program now at www.hopevalleycamp.com We are offering FREE tuition and encouraging youth leaders, adults and parents to come with their teens. You don't have to have construction experience to help. We can teach you and a lot of it is very simple and easy to learn tasks. We are looking for volunteer workers to help supervise campers and lead improvement teams. Please contact us if you are interested in being a part.