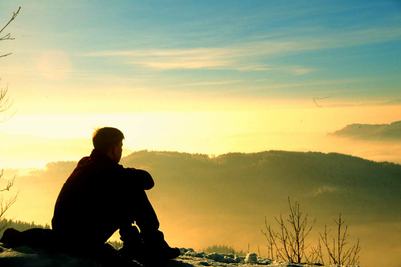 Recently I was visiting New Hope Community Church in Rochester, NY and that Sunday's message made me really think about the role Hope Valley Camp and retreat center plays in the Christian community in western NY. The pastor shared this fantastic message about not giving up in life when the going gets tough. That sometimes the only thing beating you is yourself and having lost that drive that pushes you to succeed. Towards the end of his message he played a montage clip from the Rocky movies that helped "knock out" the point of his message. Get it? "Knock out" 😉
On the way home that day I began to think about the boxing analogy and how well it applies to our lives and our camping ministry. In a boxing match you enter the ring and fight with your opponent for 3 minutes at a time. For 180 seconds you pummel another person and take multiple hits yourself. The goal is to either knock the other person out or to do more damage to them than they do to you and then win by judgment. Sounds rough.
Now, as Christians we know that we are engaged in a daily battle with the enemy of our souls, but we also know that we already have the victory. That we fight FROM victory and not FOR victory. With that realization behind us it becomes easier to step into the ring and beat the stuffing out of our already defeated foe. BUT. Just because we already have the victory doesn't mean the fight isn't exhausting and takes a toll. This is why Paul tells us in Galatians 6:9 that we should "not grow weary in doing well". It is important to remember that we need to take a BREAK from the battle. To take a moment of rest as God did after he created the world and all that is in it.
Going back to our boxing match analogy there is a part of the fight that most people forget about and don't realize what an incredibly important role it plays in the victory. That part is the bench that comes out between 3 minute rounds. The coaching team puts out a bench for the fighter to rest for a few seconds. They wipe the sweat from the fighter and give them a much needed drink. All the while they are giving tips on how to defeat their enemy and emotional encouragement to keep fighting. When I first remembered this part of the fight it struck me like a lightning bolt. We are the bench! Hope Valley Retreat Center serves as that bench in the fight of your life. When you take a day, weekend or longer to stay at our facility and rest between battles we are like the coaching staff that towels you off, waters your soul and encourages you to get back into the fight. Too often in this life we forget to rest like God commanded us too. And if we fight for too long without a break to recover and adjust our vision then we can lose a fight that has already been won on our behalf.
Rest is very important to the Christian life. Jesus said that his yoke is easy and his burden is light. That all who are weary and heavy laden should come to him. You can meet with Him anywhere, but Hope Valley is extra special, a beautiful peaceful place that will pamper your group, feed your bodies and refresh your soul. Don't miss out on a chance to step out of the fight and let our coaching team re-energize you for the next round.